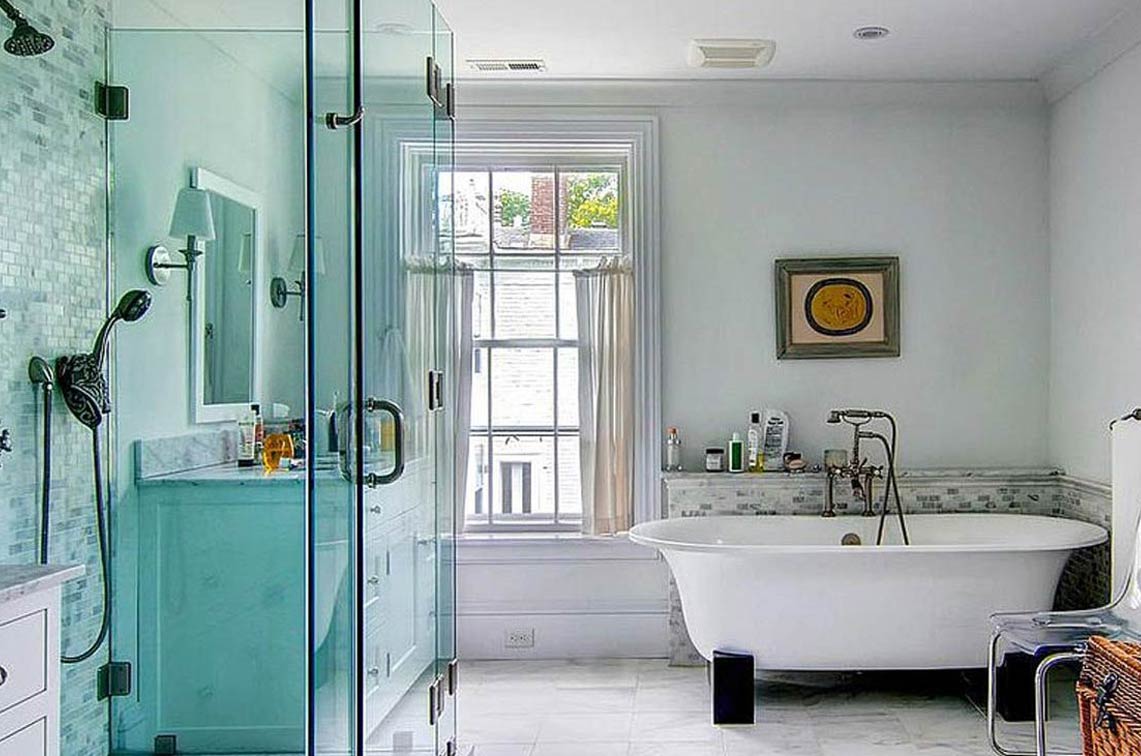 Bathroom Design & Custom Cabinets
Along with kitchens, bathrooms are the most complex rooms to build and are consequently expensive.  Bathroom renovations include up to 10 trades that all have to do work with very small tolerances. You need people to do demolition, carpentry, plumbing, electrical work, sheetrock installation, ceramic or stone tile for floors and walls, cabinetry, counter tops, painting and possibly wallpaper.  10 trades !  All with separate skill sets and businesses ! And there are choices that drive the numbers up or keep them as far down as possible.  These alternatives will be made clear to you as the design process unfolds.
As a bathroom designer, my favorite is to compose a bathroom of a variety of textures using white materials: small wall tiles, large floor tiles, white cabinets, and window treatments.   Then, if you choose, you can bring color into the room with your choice of towels, shower curtain fabric (unless glass enclosures are used) and possibly wallpaper – which is seldom done on Martha's Vineyard but, I believe, should be considered.
A bathroom is also a room where you can be a bit more adventurous since it is small and private.  Clear glass, satin nickel sink faucets and cabinet hardware is a sure success.  Shifting to oil rubbed bronze or even black faucets and hardware is more daring but, why not ?  There's no harm in going with some flare.  How about deep colored custom cabinets and bathroom vanities coordinated with a striking wallpaper?  It's worth considering.
Tell Us About Your Bathroom Project
Request your consultation today to begin the process!
⭐⭐⭐⭐⭐ Google Review
I love the cabinetry that Paul and I designed together. He was very easy to work with and he has a great design sense. Thank you, Paul!
~ Jackie Clason ~
Custom cabinet design & installation