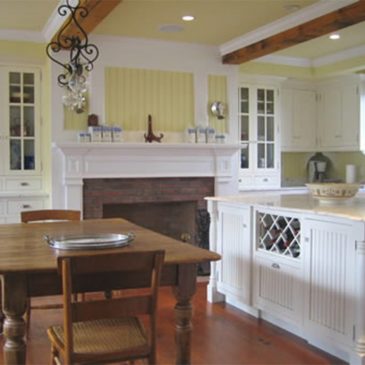 The  Goal at Rock Pond Kitchens is to design your kitchen to be beautiful, efficient, and comfortable.
We make certain you fully understand how the cabinets will function by drafting detailed drawings as well and labeling each cabinet with all interior accessories.
We design and fabricate cabinets for use throughout your home using over a dozen species of wood as well as a wide variety of standard or custom finishes. View our selection of cabinet door styles below.
We provide counters made of stone and exotic woods.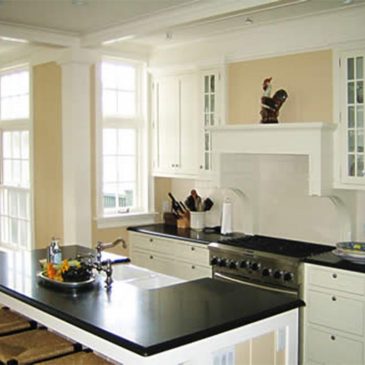 Design Concepts
Our designs are historically based and suitable for traditional settings – the vernacular of Martha's Vineyard. Here are some of the features we include in our designs…
Form Follows Function

Our designs take into account the habits and needs of each owner:
Storage (for dry as well as perishables)
Food Preparation
Organizing around a desk area
Incorporating media devices
Cooking and baking
Cleaning supplies
Comfortable socializing
Kid's projects and homework
Just some of the standard cabinet door styles offered at Rock Pond Kitchens
Sizes are entirely flexible to the 1/16″ and, should you want a fully customized door, we will produce drawings and fabricate samples for your approval. We offer dozens of standard finishes from clear or natural sealants to paints with glazes. Custom color matches for paint and stain are available.
Our drawings are detailed and labelled so that each cabinet's function is clearly understood.
We also provide a comprehensive check list for you to make certain all possible requirements are anticipated.
A kitchen needs to feel comfortable and inviting as well as being highly functional.
It should have comfortable, ideally soft seating, if space permits.
Kitchens deserve a view or better still, doors opening to your private garden.
A carefully selected variety of materials and finishes help create a more relaxed design and more comfortable setting.
Designing sections of the kitchen as independent and discrete pieces of cabinetry adds a sense of free standing pieces of furniture.
Mixing older pieces with new cabinetry softens new construction.